Memory Cleaner
Speed Up Your Mac
The first and the most efficient Memory Cleaner on the Mac App Store. Don't waste your memory; clean it. Don't waste your time; be productive.
Features and screenshots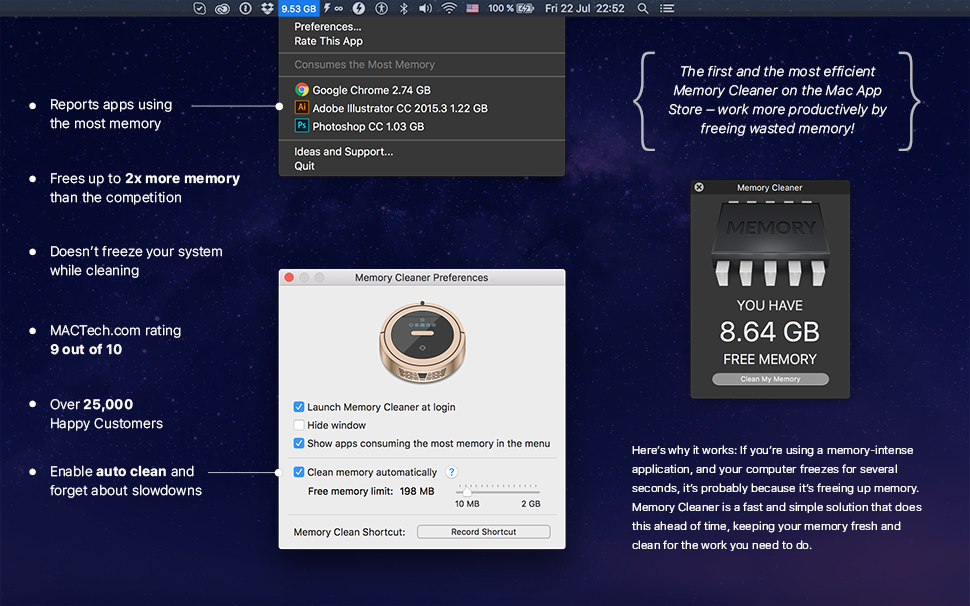 Features:
Frees up to 2x more memory than the competition
Doesn't freeze your system while cleaning
Enable auto clean and forget about slowdowns
Tracks the most memory-consuming apps
Recognition:
MACTech.com rating of 9 out of 10
Over 25,000 happy customers
How it works:
Problem: Launching a memory-intense application, your computer freezes for several seconds. This is probably because the computer is trying to free some memory to run it.
Solution: Memory Cleaner frees the memory ahead of time, keeping your memory fresh and clean.
---
Suggest improvements for Memory Cleaner at: http://memorycleaner.uservoice.com