Security Camera
Protect Your Mac
Take a covert picture of whomever wakes up your Mac! Security Camera 2.5 sets up in less than a minute. And once it's on, nobody can use your Mac without you knowing exactly who it is. Yosemite ready too!
Features and screenshots
Security Camera is a user-friendly app that can be installed in one minute, and doesn't require any further configuration. Each time your computer wakes up, the camera will silently snap a picture of the person who wakes it up, and save the photo into a defined folder (the photos are password protected too – only you can view or delete them).
That means with this app installed on your Mac, you will always have time-stamped evidence of who touched your computer without your permission. Intruders will no longer be able to deny invading your privacy – perfect for foiling snoopy co-workers, subordinates, your kids, your roommate – anyone.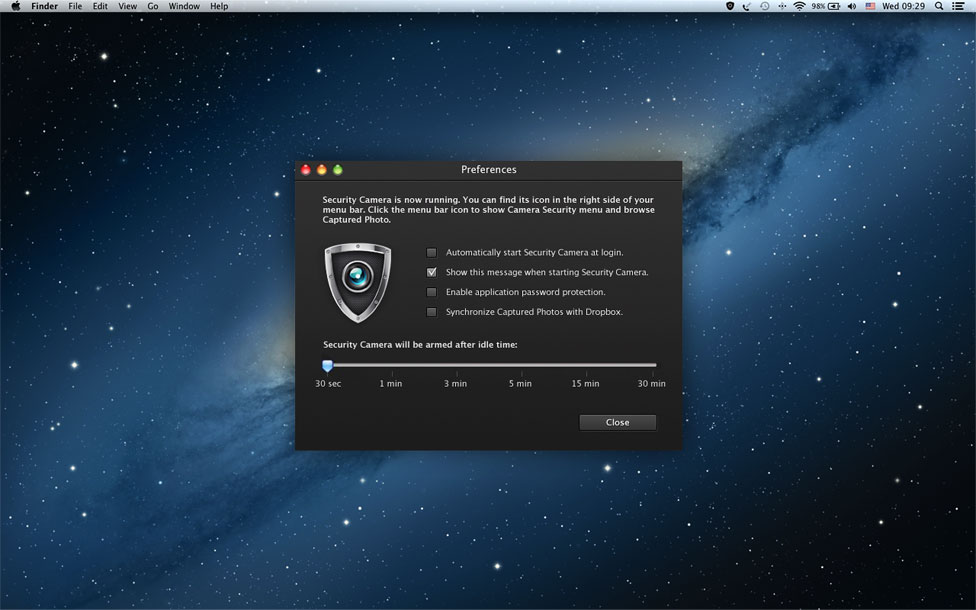 Get Security Camera 2.5 today, and you won't have to worry about someone snooping on your machine without your knowledge – because now you'll have proof!
Features:
Automatic (and silent/stealth) camera snap after waking up.
Saves images at a resolution of 640х480.
Can send pictures to your Dropbox account! So if your laptop gets stolen, you'll almost certainly have a photo of the thief.
User-friendly interface and no need for further configuration.
Password protection - only you can view/copy/delete Captured Photos.
No additional CPU load.
No interference with other automatic-run applications.
Adjustable arm-timer.
Idle timer actuations.
You can setup Security Camera to arm after 30sec/1min/3min/5min/15min/30min of idle time. When armed,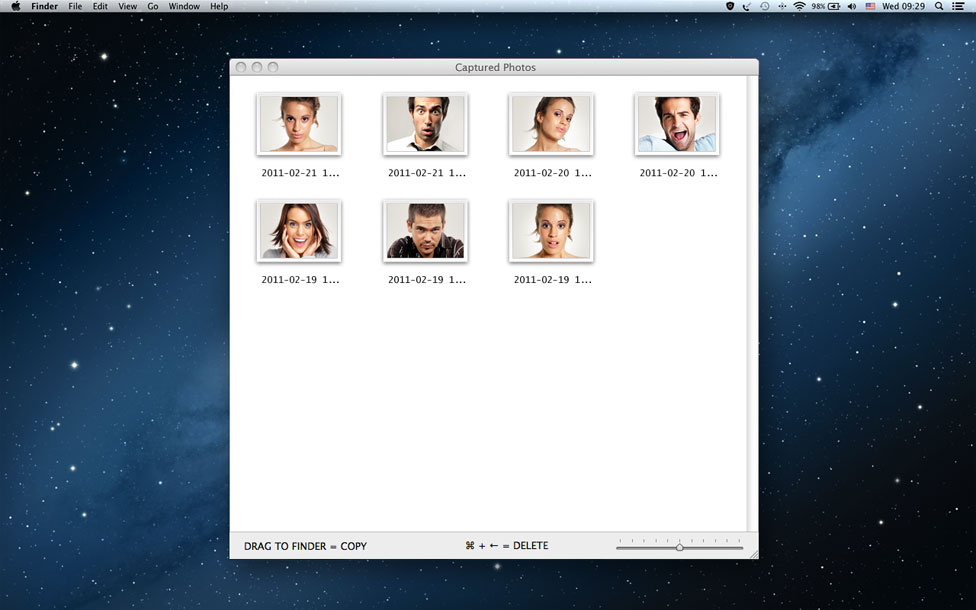 Thank you for choosing Security Camera!

Whats new in version 2.5:
Fully compatible with OS X Yosemite
Fixed random crashes on 3-rd party web cameras
Works in Sandbox for additional protection
Polished and ready to work within infinity hours providing security and fun to its owner.

Whats new in version 2.3:
Added compatibility with MAC OS Mountain Lion.
All known problems were solved.
Photo gallery and program core was rewritten from scratch with performance and low memory requirements in mind.
Polished and ready to work within infinity hours providing security and fun to its owner.
Suggest improvements for Security Camera at: http://securitycamera.uservoice.com