Memory Cleaner
Speed Up Your Mac
Speeds Up Your Computer with a Single Click!
MACTech.com rating: 9 out of 10 "…with its ease of use and low price (US$5.99), it's a nice addition to any Mac user's toolbox."
Features and screenshots
The first Memory Cleaner on the Mac App Store - work more productively by freeing wasted memory!
Memory Cleaner digs deep and safely cleans out unwanted junk files and other resource-hogging waste, while leaving the important stuff alone. Your computer will run faster.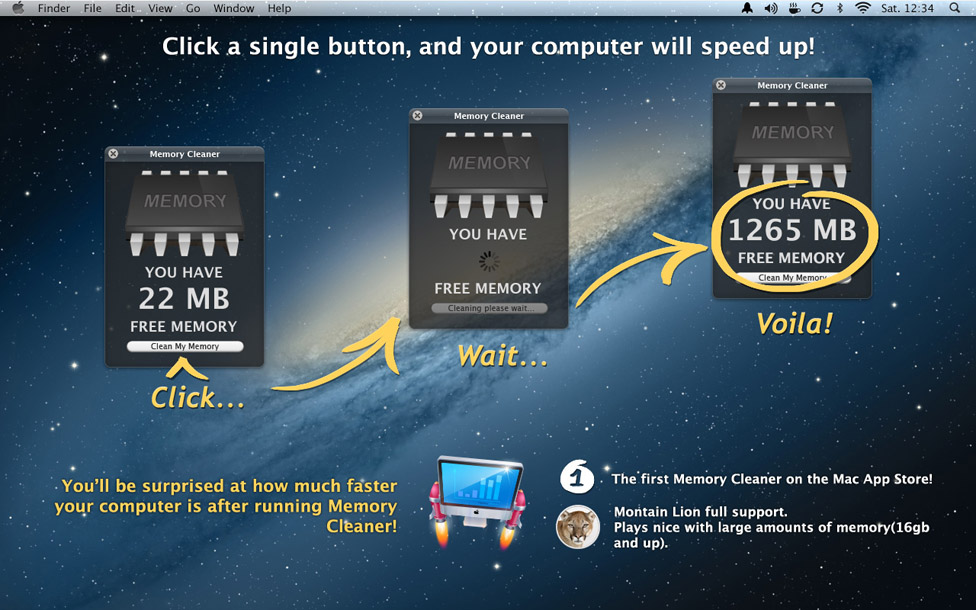 Here's why it works: If you're using a memory-intense application, and your computer freezes for several seconds, it's probably because it's freeing up memory. Memory Cleaner is a fast and simple solution that does this ahead of time, keeping your memory fresh and clean for the work you need to do.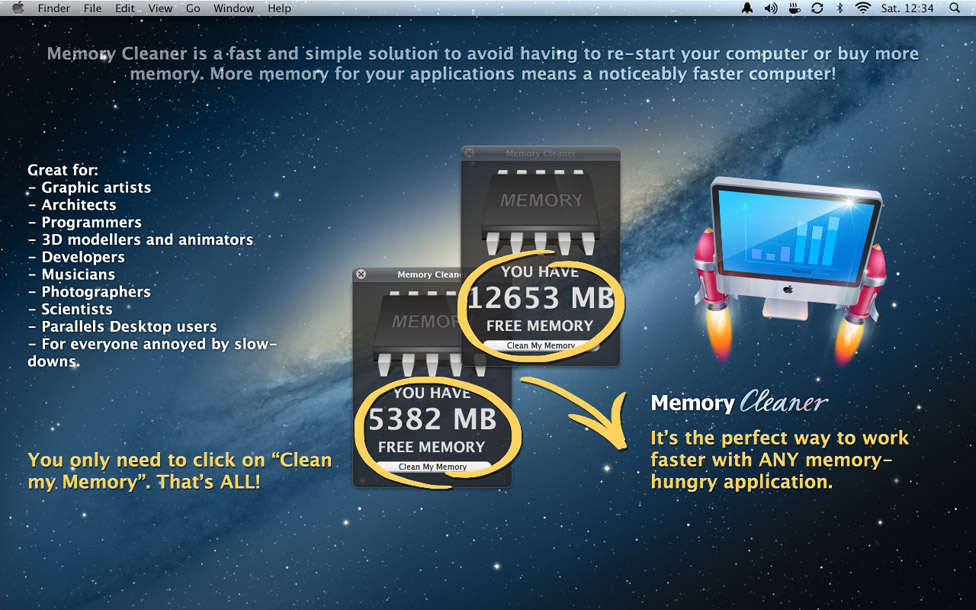 Great for:
Graphic artists
Architects
Programmers
3D modellers and animators
Developers
Musicians
Photographers
Scientists
Parallels Desktop users
For everyone annoyed by slowdowns. You only need to click on "Clean my Memory". That's ALL!
It's the perfect way to work faster with ANY memory-hungry application.
It's the perfect way to work faster with ANY memory-hungry application.
HINT: 200-500Mb is a good average result. Usually it's enough to shake up computer performance. And remember: if there is nothing to clean - it will not be cleaned!
What's NEW in Version 2.1:
MacOS Lion full support.
Plays nice with large amounts of memory(16gb and up).
All known problems were fixed in this release.
Now available in 12 languages: english, русский, Deutsch, française, italiano, 日本, Nederlands, 한국의, polski, español, 中國, 中国
What's NEW in Version 2.2:
New menu bar icon.
Shows free memory in menu bar (optional).
What's NEW in Version 4.0:
Auto Clean option.
Windowless option.
Full OS X Yosemite compatibility.
Retina display compatibility.
Suggest improvements for Memory Cleaner at: http://memorycleaner.uservoice.com